Print and Digital Guide to Members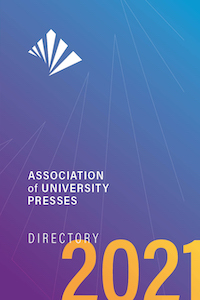 2021 Print Edition
ISBN: 9780945103448
$30.00
2021 Digital Edition
ISBN: 9780945103424
Full Access: $30.00
30-day Access: $9.00
Order your copy through the University of Chicago Press today!
Association Members receive significant discounts on both editions.
As an introduction and guide to the world of university presses, the 2021 Association of University Presses Directory is an essential reference and resource for anyone involved in scholarly publishing. Authors, librarians, booksellers, service providers, and researchers will all find this an indispensable tool.
The AUPresses Directory offers detailed entries for each member publisher, including editorial profiles and contact information of publishing personnel. Other features include a convenient Subject Area Guide indicating which presses publish in specific disciplines, tips on submitting manuscripts, general information about the Association, and listings of Association Partners.
Printing of the AUPresses Directory compliments of Sheridan.