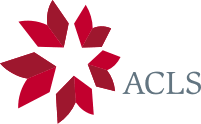 New York, NY, and Washington, DC—The Association of University Presses (AUPresses) is pleased to announce that it is joining the American Council of Learned Societies (ACLS) as an Affiliate Member.
"AUPresses shares ACLS's commitment to the creation of knowledge, particularly in the humanities and social sciences, as well as its promotion and circulation throughout society," said AUPresses executive director Peter Berkery. "We envision a world that values the many ways that scholarship enriches societies, institutions, and individuals. We look forward to working more closely with ACLS as an Affiliate Member to advance this essential work."
Read the full ACLS announcement here >
About the Association of University Presses
AUPresses is an organization of nearly 160 international nonprofit scholarly publishers. Since 1937, the Association of University Presses advances the essential role of a global community of publishers whose mission is to ensure academic excellence and cultivate knowledge. The Association holds intellectual freedom, integrity, stewardship, and equity and inclusion as core values. AUPresses members are active across many scholarly disciplines, including the humanities, arts, and sciences, publish significant regional and literary work, and are innovators in the world of digital publishing.