Banned Books Week Set for September 2019
Banned Books Week will be celebrated September 22-28, 2019. The theme of this year's event proclaims "Censorship Leaves Us in the Dark," urging everyoneto "Keep the Light On." The Association of University Presses, which holds intellectual freedom as a core value, is proud to be a member of the Banned Books Week Coalition.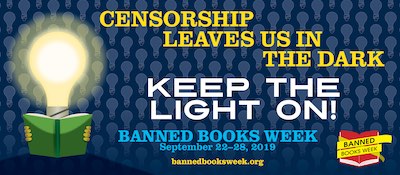 The announcement of the 2019 dates and theme follows the release this week of the Top 11 Most Challenged Books of 2018 list by the American Library Association's Office for Intellectual Freedom.
The freedom to read is integral to the freedom to learn, to question, and to think. We urge all university presses to highlight the ways that our community "keeps the light" on during this week in September and year-round.
Read the Coalition's full press release >
Member presses: Please contact Annette Windhorn, awindhorn@aupresses.org, with information about any planned activity for Banned Books Week, or any news of challenges to your books and other published material.