November 8-14, 2015
New York, NY—To build on last year's excellent momentum and community involvement the Association of American University Presses (AAUP) is announcing the dates for the annual University Press Week celebration early and in conjunction with a new hashtag for publishers to use in the lead up to and during the event. AAUP members will use the #ReadUP hashtag to highlight on social media the best of what UPs are publishing all year long.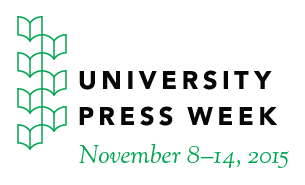 In addition to promoting the #ReadUP campaign, AAUP will develop an online gallery to feature some of the most surprising aspects of university presses—did you know you can #ReadUP on everything from Scandinavian thrillers to the Austin music scene? From where to find the best bookstores in New Orleans to how to cook authentic soul food, from navigating the healthcare industry to exploring historic battlefields, from the twenty-first century economy to ancient technologies, and just about everything in between and beyond.
The association is planning a series of online discussions, surprise giveaways, and an NPR underwriting campaign in key markets. Be on the lookout for local events and celebrations by AAUP members across the globe!
University Press Week 2015
November 8–14, 2015
#ReadUP
"In a period with rapidly changing and often disruptive technologies and business models, academic publishing anchors us in the timeless search for truth and knowledge."
—Patrick Olivelle, Professor Emeritus of Asian and Religious Studies, University of Texas at Austin
"The world of ideas depends crucially on university presses for its sustenance and survival. And it always will. The earliest of those presses now are centuries old and yet they continue to expand the frontiers of knowledge, not only in terms of their content, but also in pioneering new modes of content delivery … I have no idea where the generation of scholars who follow will be spending their time, but I do know that university presses will be at their side."
—Richard Wright, Curators' Professor of Criminology and Criminal Justice, University of Missouri—Saint Louis
The inaugural University Press Week was held in November 2012 and was part of AAUP's 75th anniversary festivities. On the eve of that inaugural event President Jimmy Carter said, "When as president I proclaimed a 'University Press Week' in 1978, I did so to honor the important role of university presses in advancing and preserving knowledge. Since then my personal appreciation and understanding of university presses has deepened. I am glad that University Press Week will again be celebrated. The special character and contribution of university presses should be better known and better supported."
2014 University Press Week featured local campaigns by individual presses and regional consortiums of presses and an online campaign spearheaded by AAUP that utilized the widely successful #shelfie campaign, which will be repeated this year, an outstanding infographic, and a live online event on Google+. The online event featured Barbara Kline Pope, Executive Director of the National Academies Press and AAUP President, Peter Dougherty, Director of Princeton University Press, and Ron Chrisman, Director of the University of North Texas Press, moderated by Jennifer Howard of the Chronicle of Higher Education, discussing three innovative collaborations that cross the boundaries of nations, institutions, and disciplines. Several hundred people tuned in live or watched the event after airing.