Annual Show Celebrates Excellence in University Press Design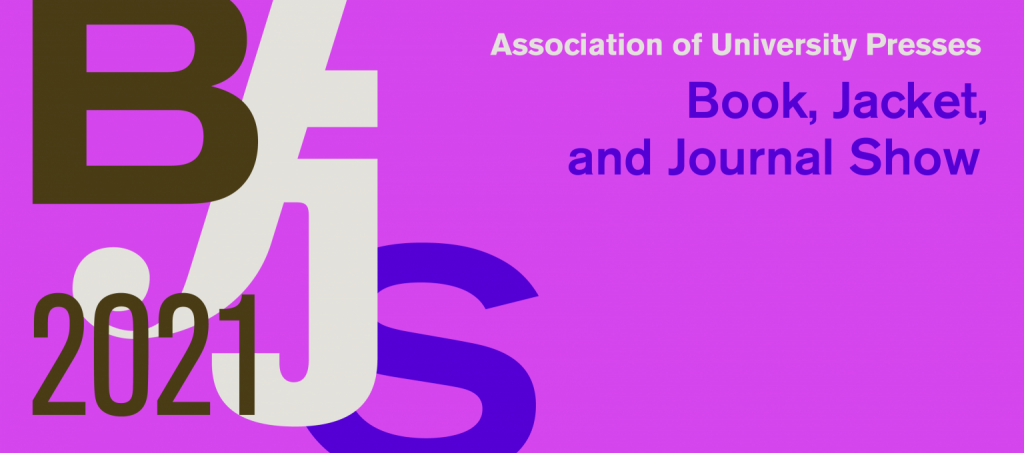 The Association of University Presses (AUPresses) proudly announces the juried selections for its 2021 Book, Jacket, and Journal Show. The 101 outstanding examples of university press publications are now on virtual display at https://design.up.hcommons.org/.
The annual show, now in its 56th year, honors the university publishing community's design and production professionals. The Association recognizes achievement in design, production, and manufacture of books, jackets, covers, and journals, and the Show serves as a spark to conversations and source of ideas about intelligent, creative, and resourceful publishing.
Open to AUPresses member publishers worldwide, this year's competition attracted 523 submissions, all published during 2020, in these categories:
Scholarly typographic books
Scholarly illustrated books
Trade typographic books
Trade illustrated books
Poetry and literature books
Reference books
Journals
Jackets and covers (of books and journals)
"This has been another extraordinary year for design from university presses," Dan Ruccia, marketing designer at Duke University Press and chair of the Book, Jacket, and Journal Show Committee. "All the entries and selections to this year's show demonstrate the continued creativity and adaptability of the designers in our community despite all the upheaval of the past year."
The 2021 Show jurors are all experienced, award-winning designers (two, Matthew Monk and Andrew Shurtz, have created work that was chosen for past AUPresses Book, Jacket, and Journal Shows):
Matthew Monk taught for many years at Rhode Island School of Design before becoming founding faculty chair of the MFA in Graphic Design program at Vermont College of Fine Arts, where he currently serves as academic dean.
Andrew Shurtz is an educator and researcher based in New York City. The cofounder of the international design collective We Have Photoshop and the journal Convolution, he has taught at Parsons School of Design since 2011.
Gail Anderson is a coauthor of 15 books on design, typography, and illustration; the chair of the BFA Design and BFA Advertising programs at the School of Visual Arts, where she has taught for thirty years; and the creative director at Visual Arts Press.
Janet Hansen is an associate art director at Penguin Random House and looks forward to teaching her first class at the School of Visual Arts, her alma mater, in the fall.
Due to the ongoing pandemic, the jury couldn't gather in person at the AUPresses office in New York to evaluate entries; instead, each received boxes of submissions at their homes. "I tore into the cartons like a five-year-old on their birthday," Monk said. "The deprivations of the prior year of COVID isolation made the contents that much more thrilling to unpack."
"What designer wouldn't want seven boxes of books featuring beautifully designed covers to admire (oh, yes, and to judge)?" said Anderson.
This at-home work encouraged deep engagement with the entries. "From the moment the boxes arrived, I was surrounded by books, both physically and mentally," Shurtz said. "Books were shuffled in and out of boxes, grouped into piles, lined up on our dining room table, and moved back into boxes again so we could eat. They were there to greet me when I woke up in the morning and there to haunt me in my dreams."
Monk and Shurtz considered the book and journal entries, identifying 49 selections from a field of 167 submissions. "Books have a unique ability to comfort, and well-designed books to truly satisfy, particularly during these challenging times," said Monk.
Shurtz added, "While reviewing these books, I was pleased to see a wide range of unexpected and downright daring choices in what might be the most essential core of what we do as book designers—making words both beautiful and readable."
Anderson and Hansen evaluated and selected the top 52 jackets and covers from 356 entries. "I was looking for design that woke up my senses—both pushing the boundaries conceptually and rooted in typographical and design excellence," Hansen said.
"Book covers have to do a lot of heavy lifting these days," observed Anderson. "They live both on bookstore shelves and online as veritable postage stamps. They need to sell books." She continued, "Our cover selections are smart, clear, engaging, appropriate, and ultimately, flat-out great design, stuff I wish I'd done myself. And isn't envy always the true hallmark of design greatness?"
"Every book in this competition represents hours of devotion, and it showed." Hansen concluded. "Congratulations to all who bring these wonderful books into the world."
The jurors will gather to discuss their process during the AUPresses virtual annual meeting in June. The Book, Jacket, and Journal Show Committee is considering whether the traveling show will be able to make a return in fall 2021.
About the Association of University Presses
AUPresses is an organization of nearly 160 international nonprofit scholarly publishers. Since 1937, the Association of University Presses advances the essential role of a global community of publishers whose mission is to ensure academic excellence and cultivate knowledge. The Association holds intellectual freedom, integrity, stewardship, and equity and inclusion as core values. AUPresses members are active across many scholarly disciplines, including the humanities, arts, and sciences, publish significant regional and literary work, and are innovators in the world of digital publishing.