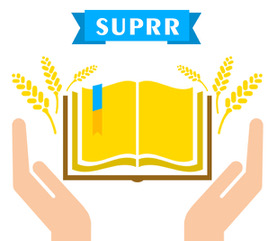 The Association of University Presses (AUPresses) supports the efforts of Supporting Ukrainian Publishing Resilience and Recovery (SUPRR) to create closer ties between the Ukrainian publishing sector and the global publishing community.
SUPRR aims to facilitate engagement of scholarly publishing professionals around the world in assisting Ukrainian publishers of books and journals. Areas of particular focus include translation into and out of the Ukrainian language; digital infrastructure development in accordance with international metadata standards; and attention to the whole content distribution chain—library, bookselling, and printing as well as publishing sectors.
In a resolution adopted during its spring meeting last month, the AUPresses Board of Directors writes, "We particularly applaud the goal of greater integration of Ukrainian scholarly publishers into the global scholarly communications ecosystem. We commit to expanded outreach to our Ukrainian university press colleagues through targeted participation in AUPresses programs and resources."
To begin, AUPresses will offer complimentary registrations to its 2023 Virtual Annual Meeting in June. "It will be our pleasure to engage our colleagues in Ukraine in mutually beneficial dialogue during this virtual conference and beyond, enacting our shared commitments to intellectual freedom and the advance of knowledge," said AUPresses executive director Peter Berkery.**
Other early backers of SUPRR include the Association of Learned and Professional Society Publishers, Central European University Press, the De Gruyter eBound Foundation*, the OAPEN Foundation, Open Access Scholarly Publishing Association (OASPA), Publishers Licensing Services, the Ukrainian Book Institute (UBI), and the Ukrainian Publishers and Booksellers Association (UPBA).
"Our overall goal is to see a healthy publishing industry restored to the people of Ukraine," said Frances Pinter, one of the initiative's organizers and executive chair of Central European University Press, an AUPresses member since 2014.
More information about SUPRR, including its first report on the current landscape of Ukrainian book publishing, is available here.
*More information about the De Gruyter eBound Foundation support for SUPRR is available here.
**A diverse program (available here), including three plenary sessions and 49 concurrent sessions on a wide variety of topics, has been planned for the 2023 Virtual Annual Meeting. In addition, all registrants will have access to session recordings through January 2024. Ukrainian university publishing professionals interested in participating should contact AUPresses' executive director Peter Berkery for details on how  to register, free of charge. 
Update
June 23, 2023: Eleven Ukrainian publishers participated in the AUPresses 2023 Virtual Annual Meeting.
Also of interest
Here is a list of selected books, journal articles, booklists, and commentary from AUPresses members' expert authors—initially gathered in the early days following the Russian invasion in 2022 and now numbering works from more than 40 member presses—that offer essential reading to all who seek to understand the ongoing crisis in Ukraine.