October 15, 2019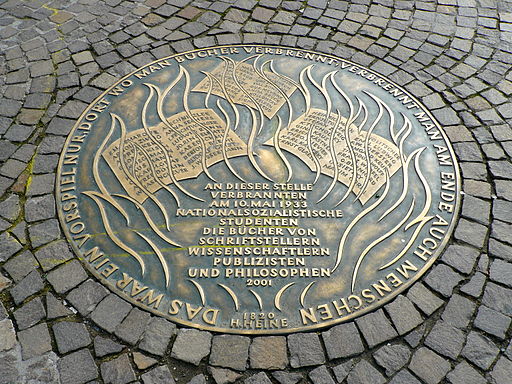 The international publishing community is gathering this week at the Frankfurt Book Fair—as the book world has done over the course of 500 years. These days, the Buchmesse occurs not many kilometers from a plaque that marks one of the first Nazi book burnings, on the Römerberg Plaza. On May 10, 1933, students across Germany burned tens of thousands of books that were deemed "un-German." Representatives from AUPresses members will be in Frankfurt this week, and they will encounter many "stumble stones" around the city—markers to remind everyone who passes of what came after those book burnings. These markers are memorials for the people deemed "un-German" who were murdered by the Nazi regime. Many of these markers are researched and laid in place by the students of today, who seek to learn even uncomfortable and painful truths.
The Association of University Presses is horrified by news that students at Georgia Southern University burned copies of an invited speaker's book last week. Jennine Capó Crucet, professor of English at the University of Nebraska, Lincoln, was giving a talk in support of the assigned reading of her novel Make Your Home Among Strangers (St. Martin's, 2015). Reports from the event indicate that heated exchanges took place both between students and during the Q & A with Professor Crucet, over her critiques of white privilege and who will be permitted to critique whiteness. It is the actions in the aftermath of that event—where ideas were exchanged freely, if contentiously—that we condemn. Video has been shared of students gathering to burn copies of Crucet's book. Furthering the implicit threat in that act, people also gathered in front of the hotel where the university was hosting the author, forcing a change in accommodations to prevent violence.
The university has stated, correctly, that it is within the students' First Amendment rights to free expression to burn the book in this manner. It is right, as well, to wholeheartedly condemn such an act of expression and to make expressively clear why it is wrong and dangerous, and frankly terrifying to many people. It is not a slippery slope to turn to the history of Nazi Germany to interpret such acts; it is learning an uncomfortable, painful truth. The German essayist Heinrich Heine wrote in 1823, "Where they have burned books, they will end in burning people." Which is precisely where the Nazi book burnings ended. We cannot stand silent and risk history repeating itself.
The message of book burning is: Your ideas, your words, you, do not deserve to exist. AUPresses holds intellectual freedom as a core value, and intellectual freedom is not possible when books are burned.
Jennine Capó Crucet is also a university press author. Her award-winning first book How to Leave Hialeah was published by the University of Iowa Press in 2009.
About the Association of University Presses
AUPresses is an organization of nearly 160 international nonprofit scholarly publishers. Since 1937, the Association of University Presses advances the essential role of a global community of publishers whose mission is to ensure academic excellence and cultivate knowledge. The Association holds intellectual freedom, integrity, stewardship, and equity and inclusion as core values. AUPresses members are active across many scholarly disciplines, including the humanities, arts, and sciences, publish significant regional and literary work, and are innovators in the world of digital publishing.