MIT Press Editorial Director Recognized for Service to University Press Community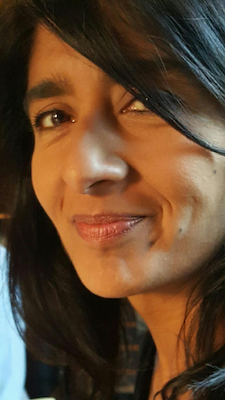 New York, NY, and Washington, DC (June 27, 2019)— Gita Manaktala, editorial director of the MIT Press, was named the 2019 Association of University Presses (AUPresses) Constituency Award honoree at this year's AUPresses Annual Meeting in Detroit. The award was introduced by Larin McLaughlin, editor-in-chief of University of Washington Press, during the June 11 opening banquet.
"Her letters of nomination for this award illustrate how much so many of us cherish Gita's contributions to our work," McLaughlin remarked. "One points out that 'her knowledge, her charisma, her humor, her charm are all generously bestowed on our membership.' Another describes Gita as 'a strong ambassador for the cooperative and collaborative spirit that defines the AUPresses.'" [McLaughlin's full comments are available online.]
Manaktala's leadership of diversity and inclusion initiatives was seen as a signal achievement by many of her nominators. She has been one of the principal mentors involved in the Mellon University Press Diversity Fellowship since its inception in 2016, a program that creates opportunities in university press acquisitions departments for talented scholars from diverse communities. The convener of a Diversity and Inclusion Working Group at her own press, she was also a founding member and co-chair, with McLaughlin, of the Association's Diversity and Inclusion Task Force, created in 2017. The AUPresses task force will become a full committee for Equity, Justice, and Inclusion, with Manaktala continuing as a co-chair, this fall.
Manaktala's nearly 30-year career at MIT Press has encompassed marketing as well as editorial areas of expertise. As marketing director at the press from 2004-2008, she led global sales, marketing, publicity, and electronic product development efforts. As its editorial director since 2009, she has guided a large and complex acquisitions program and currently oversees the work of 14 acquiring editors.
Her additional volunteer service to the Association has been equally varied:
She chaired the 2011 Annual Meeting Program Committee, constructing a conference that is well remembered for its vibrant and community-building offerings.
As part of the 2015-2016 Acquisitions Editorial Committee, she helped create the Best Practices for Peer Review handbook, bringing together insights from dozens of acquisitions editors to produce this guiding document.
She has served on the Faculty Outreach, Digital Publishing, and Nominating Committees, and as a member of the Association's Board of Directors since 2017.
The Association recognizes Manaktala as a multi-talented and collaborative leader and thanks her for her many contributions to the work of university presses and to a rich and inclusive publishing culture.
Created in 1991, the AUPresses Constituency Award recognizes staff at member presses who have demonstrated active leadership and service to the Association and the university press community. Coincidentally, last year's award winner, Colleen Lanick, was also an MIT Press staffer; she is currently publicity director of Harvard University Press.
Read more about the history of the Constituency Award and see its complete Honor Roll.
About the Association of University Presses
AUPresses is an organization of more than 150 international nonprofit scholarly publishers. Since 1937, the Association of University Presses advances the essential role of a global community of publishers whose mission is to ensure academic excellence and cultivate knowledge. The Association holds integrity, diversity, stewardship, and intellectual freedom as core values. AUPresses members are active across many scholarly disciplines, including the humanities, arts, and sciences, publish significant regional and literary work, and are innovators in the world of digital publishing.