New Board Members and Officers Begin Term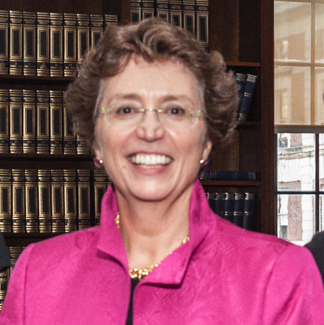 New York, NY— Jennifer Crewe, Associate Provost and Director, Columbia University Press, assumed the presidency of the Association of University Presses on June 19, 2018, in San Francisco. Crewe was preceded by Nicole Mitchell, University of Washington Press. Treasurer Robbie Dircks, University of North Carolina Press, also took office, as Nadine Buckland, University of the West Indies Press, wrapped up her 2017-2018 term.
New board members also began three-year terms, including: Anthony Cond, Director of Liverpool University Press and the Association's first board representative from a UK/EU-based member; and Fredric Nachbaur, Director, Fordham University Press. Kathryn Conrad, Director, University of Arizona Press, was voted in as President-Elect, and Jean Kim, Stanford University Press, took office as Treasurer-Elect.
At her inaugural address, Crewe reflected on the core of the Association—the members: "For many of us, "University" is our middle name. In order to remain vital to our institutions, we must remain committed to the scholarly missions of those institutions, and we must position ourselves as strategic partners with our administrators and faculty. We must make sure they fully understand that we are essential vehicles for getting important ideas and values out into the world—ideas generated on our own campuses and beyond." [Read her full remarks]
Crewe knows the work of university presses and the Association of University Presses extremely well. She began as an editorial assistant at Columbia University Press while completing an MFA at the university, going on to work as a manuscript editor. In order to gain acquisitions experience, Crewe took a role at Charles Scribners' Sons and then Macmillan before returning to Columbia University Press as an acquisitions editor in 1986. She served the Press in increasingly senior roles, becoming Editorial Director in 1999, being appointed President and Director in 2014, and now named Associate Provost and Director. As a publisher she has received many accolades, and has shepherded numerous award-winning scholarly books to publication. Most recently, she was awarded the Outstanding Service Award from the Literature Translation Institute of Korea, and has been named a Chevalier of the Order of Arts and Letters by the French Minister of Culture.
As a member of the AUPresses community, Crewe has been a remarkably generous, committed colleague. As member and chair of first the Training Task Force and then the Professional Development Committee from 1999 to 2008, Crewe oversaw countless workshops, career development opportunities, and educational resources. Crewe served on the Association's Board of Directors from 2001 to 2003. For all of this time and service, Crewe was the recipient of the Association's Constituency Award in 2006.
President Crewe announced several new and continuing initiatives for the 2018-2019 term: establishing a Statistics Review Task Force; and a Gender, Equity, and Cultures of Respect Task Force; and announcing the transition of the current Diversity & Inclusion Task Force, established by President Mitchell, into a formal committee of the Association.
Fun Facts About the 2018-2019 AUPresses Board of Directors
• Jennifer Crewe, our 68th president, is the 15th woman to serve in that role.
• Crewe is the third Columbia University Press director to serve as president; the first since 1976 (Charles Proffitt, 1943-44; Robert Barnes, 1975-1976).
• This year is the first time our presidential triumvirate (Past President, President, President-Elect) are all three women.
• It is the first year since 2001 that the full triumvirate was single-gender.
• Number of women presidents in Association's first 40 years: 1 (Miriam Brokaw, Princeton)
• Number of women presidents in Association's next 41 years: 14 (See presidents list)
• First non-US or Canadian officer: Nadine Buckland, University of the West Indies Press (Treasurer-Elect, 2016-17; Treasurer, 2017-18; Director-at-large, 2018-19)
• First non-North American board member: Anthony Cond, Liverpool University Press (Director-at-large, 2018-2021)
• For the first time, our current officer duo of Jennifer Crewe and Robbie Dircks have the distinction of both being named to the AUPresses Constituency Award Honor Roll (Crewe, 2006; Dircks, 2008).
About the Association of University Presses
AUPresses is an organization of nearly 160 international nonprofit scholarly publishers. Since 1937, the Association of University Presses advances the essential role of a global community of publishers whose mission is to ensure academic excellence and cultivate knowledge. The Association holds intellectual freedom, integrity, stewardship, and equity and inclusion as core values. AUPresses members are active across many scholarly disciplines, including the humanities, arts, and sciences, publish significant regional and literary work, and are innovators in the world of digital publishing.