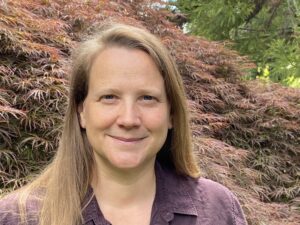 New York, NY, and Washington, DC—Larin McLaughlin, editor-in-chief of the University of Washington Press, was named the 2020 Association of University Presses (AUPresses) Constituency Award honoree during the Association's virtual 2020 Annual Meeting yesterday. The award was presented by Niccole Coggins, editorial, design, and production coordinator and assistant project editor at the University of Virginia Press, and a former Diversity Fellow.
McLaughlin was honored for her contributions to advancing the goals of diversity and inclusion in the university press community; in particular, her nominators commended her leadership as author and principal investigator of the Mellon University Press Diversity Fellowship Program. Since 2016, this program has created opportunities in university press acquisitions departments for talented scholars from diverse communities. McLaughlin developed and led the program in its first three years with three partner presses—Duke, Georgia, and MIT—and also won a second grant from the Andrew W. Mellon Foundation to expand the program with five partner presses—Chicago, Cornell, MIT, Northwestern, and Ohio State—in 2019. When phase 2 of that grant program concludes in 2022, the program will have provided an introduction to university press operations and specific training in editorial acquisition and list-building to a total of 30 fellows; moreover, it will have demonstrated for the entire community more equitable practices to inform our continued work to hire, train, and advance the next generation of university press leaders.
"The Mellon University Press Diversity Fellowship made my own entry into acquisitions possible," wrote Kyle Gipson, assistant editor of education at Johns Hopkins University Press, in a letter of nomination. "The Fellowship is not the only tool needed to make the scholarly publishing industry more representative of the community of scholars with which it collaborates," Gipson continued. "It must be deployed alongside other strategies to hire and retain people of color in publishing across departments and at various levels, including upper levels of management. However, it represents an important step and Larin's work developing the pipeline program has helped nudge the scholarly publishing industry in that direction."
In addition, McLaughlin served as founding co-chair, with Gita Manaktala—editorial director of the MIT Press and the 2019 Constituency Award recipient—of the Association's Diversity and Inclusion Task Force in 2017. Members of this task force drafted the Association's Statement on Equity and Anti-Racism and informed the creation of a full standing committee in 2019, devoted to continuing equity, justice, and inclusion work in scholarly publishing.
Prior to joining the staff of the University of Washington Press in 2014, McLaughlin served as an acquiring editor at the University of Illinois Press and SUNY Press. Her highly collaborative acquisitions work, influenced by regular participation in the Ford Foundation Fellowship conferences, has contributed to such fields as Native American and Indigenous studies; Asian American studies; African American studies; critical ethnic studies; and women's, gender, and sexuality studies. She has also served the Association over the past decade as a member and chair of the Professional Development Committee and on the Library Relations and Faculty Outreach Committees.
The Association recognizes and thanks McLaughlin for her work and her ongoing commitment to a more equitable future for the people who comprise the community of university presses.
Created in 1991, the AUPresses Constituency Award recognizes staff at member presses who have demonstrated active leadership and service to the Association and the university press community.
Read more about the history of the Constituency Award and see its complete Honor Roll.