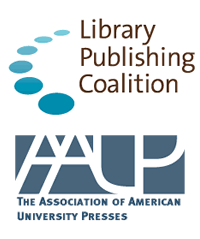 The Association of American University Presses (AAUP) and the Library Publishing Coalition (LPC) are proud to announce the winners of the 2016 Cross-Pollination Travel Grants. These grants make it possible for an AAUP and an LPC member to attend the opposite organization's annual conference for the first time.
Marinanicole Miller, Editorial Assistant, Temple University Press, will attend the 2016 Library Publishing Forum.

Isaac Gilman, Library Director, Pacific University, will attend the 2016 AAUP Annual Meeting.
The AAUP-LPC Cross-Pollination Grants were launched this year to help foster greater professional interchange between library publishing programs and university presses. Intended not merely as an individual professional development program, both LPC and AAUP see this as an opportunity to develop shared knowledge throughout the community, and to encourage future collaboration between both the organizations and their members.
Library Publishing Forum 2016 will be held at the University of North Texas in Denton, TX, May 17-19. Learn more: http://www.librarypublishing.org/events/lpforum16
AAUP 2016 will be held in Philadelphia, PA, June 16-18. Learn more: http://www.aaupnet.org/events-a-conferences/annual-meeting/aaup-2016/
About AAUP
The Association of American University Presses is an organization of 140 international nonprofit scholarly publishers. Since 1937, AAUP advances the essential role of a global community of publishers whose mission is to ensure academic excellence and cultivate knowledge. The Association holds integrity, diversity, stewardship, and intellectual freedom as core values. AAUP members are active across many scholarly disciplines, including the humanities, arts, and sciences, publish significant regional and literary work, and are innovators in the world of digital publishing.
About LPC
The Library Publishing Coalition is open to academic and research libraries and library consortia seeking to explore and define new publishing solutions. The LPC operates as an affiliated community of the Educopia Institute, a non­profit organization that advances cultural, scientific, and scholarly institutions by catalyzing networks and collaborative communities to facilitate collective impact. Learn more about LPC and its growing network of libraries at www.librarypublishing.org.