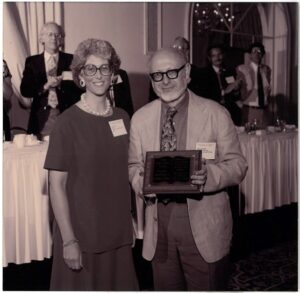 Washington, DC—Richard Hendel is honored with this year's AAUP Constituency Award at the 1994 Annual Meeting in Washington. The annual award honors a staff member at an AAUP press for their work on behalf of AAUP and the scholarly publishing community.
Hendel, currently Design Manager and Associate Director at the University of North Carolina Press, and previously at Yale, Texas, and Massachusetts, has set a standard for excellence for thirty years. Past honors include a National Book Award for typographic design (and many honors in the AAUP Book, Jacket, and Journal Show).
Hendel has shared his skills with the greater community through professorships and publishing courses, including AAUP workshops, throughout his career. He has been an active member of the AAUP Book, Jacket, and Journal Show Committee, and a frequent contributor to AAUP Annual Meetings.
Colleagues write that "Rich's contribution to scholarly publishing has been inestimable … Rich, more than any other person, has developed the skills, talents, and careers of at least two generations of AAUP designers and production managers," and that as a production manager, he "has always taken every technological advance in easy stride and has served as a leader and model for the rest of us."
Read more about the history of the Constituency Award and see its complete Honor Roll.