Receives 2021 AUPresses Stand UP Award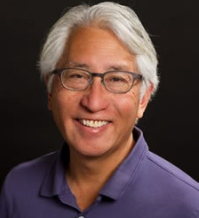 New York, NY, and Washington, DC—Author, professor, activist, and lifelong advocate for Asian American literature Shawn Wong received this year's Stand UP Award from the Association of University Presses (AUPresses) during its virtual 2021 Annual Meeting today. (The video presentation is available below.)
The Stand UP Award honors those who through their words and actions have done extraordinary work to support, defend, and celebrate the university press community. The award is intended to recognize advocates who are not on staff at a member press but who stand up from within the communities that presses work with, speak to, and serve.
Wong, who is Chinese American, was recognized for leading grassroots efforts in 2019-2020 to protect the University of Washington Press's right to publish the landmark 1957 novel No-No Boy by Japanese American author John Okada (1923-1971), set in the aftermath of Japanese Americans' incarceration during World War II. At Wong's urging, and with the consent of the Okada estate, the press (UWP) reprinted the novel in 1979 and has kept it in print since as part of its commitment to a growing catalog of Asian American literary classics. When Penguin Random House unexpectedly issued its own Penguin Classics edition in 2019, asserting that the work was in the public domain, Wong led a social media campaign to call attention to UWP's work that garnered national and international media coverage, endorsements from Pulitzer Prize winner Viet Thanh Nguyen and Tony Award-winning playwright David Henry Hwang, and statements of support from scholars, including the Executive Committee of the American Studies Association. As a result, Penguin Random House agreed to withdraw its edition from US bookstores and also to license an international edition from UWP, with the Okada family receiving royalties on all copies sold.
"Professor Wong's social media campaign advocating for the University of Washington Press and the responsible publication of this beloved novel brought attention to the longstanding value of university presses: our commitment to keeping important texts in print, our focus on quality and scholarly/historical significance over profit, the care with which we interact with authors and their estates, and our deep consideration in responsible publishing with respect to marginalized populations," said UWP acquisitions editor and Stand UP Award nominator Mike Baccam.
"In the process of his successful advocacy, Professor Wong brought the important work we do as university presses into the spotlight," said UWP editorial director Larin McLaughlin in her nomination letter. She also noted that "ongoing sales of No-No Boy secure a future for our work in a very material way" by contributing to UWP's annual operating budget; its edition of the book has sold over 170,000 copies at this writing.
In addition to decades of consultation with UWP, Wong created the Shawn Wong Book Fund in Asian American Studies book series with the press in 2019. Wong has taught at the University of Washington since 1984. He is the author of two novels: Homebase (Reed and Canon, 1979; reissued by Plume in 1990 and again by UWP in 2008) and American Knees (Simon and Schuster, 1995; reissued by UWP in 2005). In addition, he is the editor or coeditor of six Asian American and American multiethnic literary anthologies, including the pioneering anthology Aiiieeeee! An Anthology of Asian American Writers (Howard University Press, 1974; 3rd edition, UWP, 2019), and a coeditor of Before Columbus Foundation Fiction/Poetry Anthology: Selections from the American Book Awards, 1980-1990 (W. W. Norton, 1992).
About the Association of University Presses
AUPresses is an organization of nearly 160 international nonprofit scholarly publishers. Since 1937, the Association of University Presses advances the essential role of a global community of publishers whose mission is to ensure academic excellence and cultivate knowledge. The Association holds intellectual freedom, integrity, stewardship, and equity and inclusion as core values. AUPresses members are active across many scholarly disciplines, including the humanities, arts, and sciences, publish significant regional and literary work, and are innovators in the world of digital publishing.