California Production and Design Director Honored for Service to Scholarly Publishing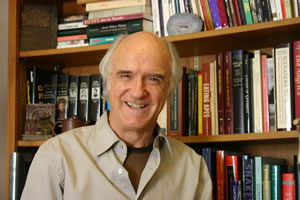 The Association of American University Presses (AAUP) is proud to announce that Tony Crouch, director of design and production at the University of California Press, is the recipient of the 2009 AAUP Constituency Award. The award was established in 1991 to honor staff at member presses who have demonstrated active leadership and service to the association and the university press community.
The award was announced on June 18 at the 2009 AAUP Annual Meeting in Philadelphia. In introducing the honoree, Martha Farlow, production manager at the University of Virginia Press, described him as "one of the most knowledgeable, generous, and green individuals in our community." Crouch's nomination was supported by many in the AAUP community who have benefited from the wisdom and insight he has shared over the years. The nomination letters all noted his generosity in sharing his time and experience with all levels of staff.
Crouch has served in his current role at the University of California Press for 21 years, and announced in his acceptance of the award that he will be retiring at the end of June. He received his initial training for the world of print and publishing in the UK before emigrating to Canada. He was the design and production manager at McGill-Queen's University Press for seven years before assuming the role of Director of Publishing for the Province of Nova Scotia.
While at California, Crouch became involved with BookBuilders West, eventually serving as director, and receiving their Distinguished Service Award in 2002. In 2005, he was inducted into the PrintMedia Hall of Fame, marking the first time a member of the university press community had been selected for the honor.
Crouch's commitment to sustainable publishing has been notable over the years. Calling him the university press community's "Green Superhero," Farlow recalled how he began investigating chlorine-free and recyclable papers in the early 1990s, and helped establish a corporate sustainability program at California in 1995. In 2009, California received the Sustain Print Award for Longtime Leadership presented by Book Business magazine.
Over the years, Crouch has served AAUP in a variety of capacities. He served on the Program Committee in 2003-2004 and 2007-2008, on the Eco Task Force from its inception in 2004 through 2007, then the Eco Subcommittee of the Design and Production Committee from 2007-2009, served as a Whiting Week-in-Residence host, and spoken on many panels at various AAUP meetings. In the wider publishing community, he has managed a book show for the Publishers Association of the West, and taught courses at the Stanford Publishing Institute.
Recent winners of the AAUP Constituency Award include Robbie Dircks, University of North Carolina Press (2008); Paul Murphy, RAND Corporation (2007); Jennifer Crewe, Columbia University Press (2006); and Susan Schott, University Press of Kansas (2005).
Read more about the history of the Constituency Award and see its complete Honor Roll.