FOR IMMEDIATE RELEASE
Contact: Angela Baggetta
917-686-9206, angela@angelabaggetta.com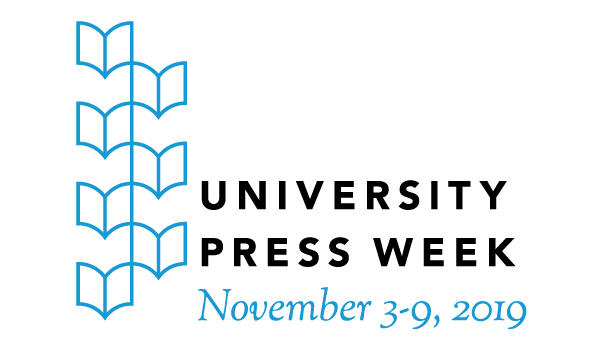 October 3, 2019 (New York, NY)—Emphasizing the role that scholarly publishers can play in moving national and international conversations forward on critical and complex issues, the Association of University Presses (AUPresses) has chosen "Read. Think. Act." as the theme for this year's University Press Week. University Press Week (UP Week) runs from Sunday, November 3, through Saturday, November 9.
"Read. Think. Act." is a particularly apt theme as many citizens around the globe continue to engage in important debates that will influence vital decision-making in the months ahead; in fact, this year's UP Week will begin exactly one year to the day before the 2020 Election Day in the U.S. Through this positive theme AUPresses members worldwide seek to encourage people to read the latest peer-reviewed publications about issues that affect our present and future—from politics to economics to climate change to race relations and more—and to better understand academic presses' important contribution to these vital areas of concern. To that end, AUPresses members have suggested a "Read. Think. Act. Reading List" that can serve as a starting place for any reader who wants to learn more. (http://bit.ly/ReadThinkAct_list)
"Many of us choose to work for university presses because we believe in the UP mission of bringing the latest research and ideas to diverse audiences of readers. The success of recent university press books such as White Fragility by Robin DiAngelo (Beacon Press) and Cyberwar by Kathleen Hall Jamieson (Oxford University Press) make it clear that there is a hunger for these books," AUPresses President, and director of the University of Arizona Press, Kathryn Conrad said. "In the last few years many people have found it difficult to have effective conversations about the most serious and important issues facing our communities, nations, and world. We hope that by encouraging readers to explore university press works on topics that affect everyone—and to reflect on their reading—our publications might help stimulate positive conversations and actions."
Selected titles from the UP Week "Read. Think. Act. Reading List" include: Goodness and the Literary Imaginationby Toni Morrison, edited by David Carrasco (University of Virginia Press); Sudden Spring: Stories of Adaptation in a Climate-Changed South by Rick Van Noy (University of Georgia Press); A Decent Life: Morality for the Rest of Us by Todd May (University of Chicago Press); Not Far From Me: Stories of Opioids and Ohio edited by Daniel Skinner and Berkeley Franz (Ohio State University Press); Rethinking Open Society — New Adversaries and New Opportunities, edited by Michael Ignatieff and Stefan Roch (Central European University Press); Protest and Democracy, edited by Moisés Arce and Roberta Rice (University of Calgary Press); and Chicana Movidas: New Narratives of Activism and Feminism in the Movement Era by Dionne Espinoza, María Eugenia Cotera, and Maylei Blackwell (University of Texas Press).
Presses chose books to submit for a variety of reasons. Manchester University Press submitted Knowledge Resistance: How We Avoid Insight from Others by sociologist Mikael Klintman. "We chose this title because, in a world of 'alternative facts' and 'fake news,' the question of why some people and groups ignore, deny, and resist knowledge about society's many problems has never been more pressing," said Manchester's senior commissioning editor Tom Dark. "The book seeks to further advance our understanding of the phenomenon of knowledge resistance by integrating insights from the social, economic and evolutionary sciences, and it identifies simplistic views in public and scholarly debates about what facts, knowledge and human motivations are and what 'rational' use of information actually means." Duke University Press chose Sea Level Rise: A Slow Tsunami on America's Shores by Orrin H. Pilkey and Keith K. Pilkey. "This title is a critical read for our times," said Duke's publicity and advertising manager Laura Sell. "The authors both acknowledge the impending worldwide catastrophe of rising seas in the twenty-first century, and argue that the only feasible response along much of the US shoreline is an immediate and managed retreat."
This will be the eighth annual University Press Week. The UP community will host online celebrations of this year's theme via a blog tour and a featured publication gallery, and industry supporters such as Ingram, NetGalley, and Baker & Taylor also will mark the week online through special messages and marketing. Celebrations will take place "in real life" as well. A panel focusing on this year's theme is planned at the Texas Book Festival; Book Culture in New York City will host a panel November 7 on this topic with a number of local UP editors and authors taking part; and around the country many events for UP authors will be co-branded as UP Week events. Many university presses will take part in an "Indies First" campaign orchestrated by the America Booksellers Association the week of November 3, extending through Small Business Saturday on November 30. At several fall book festivals—such as the Brooklyn Book Fest and the Boston Book Festival—attendees will be able to participate in a UP Week scavenger hunt by visiting all the university press booths at the event.
A full run-down of all UP Week events can be found at www.universitypressweek.org, which will continue to be updated in the coming weeks.
University presses publish approximately 14,000 books each year, as well as more than 1,200 journals and numerous innovative digital works. 151 presses belong to AUPresses, and 20% of that number are presses based outside of the US.
"University presses champion authors whose works can make a real difference in how all of us think about politics, religion, economics, science, technology, human rights, and the natural world, among other important topics" said AUPresses Executive Director Peter Berkery. "Without university presses, many of these ideas would never make it into broader conversation. We are proud to make this aspect of our community's work—and the impact it can have—our theme for University Press Week 2019."
About the Association of University Presses
AUPresses is an organization of nearly 160 international nonprofit scholarly publishers. Since 1937, the Association of University Presses advances the essential role of a global community of publishers whose mission is to ensure academic excellence and cultivate knowledge. The Association holds intellectual freedom, integrity, stewardship, and equity and inclusion as core values. AUPresses members are active across many scholarly disciplines, including the humanities, arts, and sciences, publish significant regional and literary work, and are innovators in the world of digital publishing.