Honored as Advocates for University Press Publishing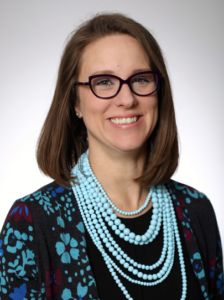 New York, NY, and Washington, DC—Historians Tai Edwards and Farina King are the recipients of this year's Stand UP Award from the Association of University Presses (AUPresses). Lisa Bayer, immediate past president of the Association and director of the University of Georgia Press, made the announcement yesterday during the AUPresses Annual Meeting in Washington, DC. Plans are underway for a presentation ceremony later this year hosted by the University Press of Kansas, in whose defense Edwards and King stood up last year.
The Stand UP Award honors those who through their words and actions have done extraordinary work to support, defend, and celebrate the university press community. The award is intended to recognize advocates who stand up from within the communities that presses work with, speak to, and serve.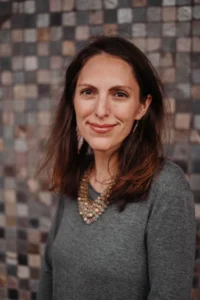 Edwards and King are being recognized for their powerful advocacy last year in support of the University Press of Kansas (UPK), a consortial press founded in 1946 and guided by a Board of Trustees comprised of the provosts of its six parent universities. Early in 2021, in light of budgetary impacts of the COVID-19 pandemic, this board initiated an independent review to propose direction for UPK's future, including a consideration of closure. Specialists in Indigenous history who each had published their first books with UPK, Edwards and King sprang into action to advocate in tandem for this imperiled press, successfully rallying others through grassroots efforts and promoting the work of university presses in general.
Through email messages, op-eds, social media posts, an online petition, and a Kansas Public Radio interview, they extolled the press's academic achievements, its role in educating generations of students, and its contributions in telling stories of significance not only to the state, but also to the region and nation. Their petition to save the press received more than 3,000 signatures and resulted in a wave of additional support in the form of hundreds of emails to the UPK board and staff. Within a few months, the immediate threat to UPK had passed: by summer 2021, the trustees accepted the independent reviewers' recommendations for renewed support of the press.
Edwards and King have continued to draw attention to the important contributions of UPK and other university presses to their fields of study, organizing a panel at the Western History Association conference in fall 2021 on "The State of University Press Publishing in 2021," and participating in UPK's "Kansas Open Books with Open Access Publishing and the Future of Native and Indigenous Studies" webinar in early 2022.
"By keeping the challenges faced by UPK in national context, these two scholars helped many in our community have valuable conversations on our home campuses about the significance of institutional support for the important work that we do," said Stand UP Award nominators Kelly Chrisman Jacques, UPK's managing director, and Kathryn Conrad, director of the University of Arizona Press.
"I acquired Tai's and Farina's books for UPK, and I already knew them to be excellent scholars and congenial colleagues," said nominator Kim Hogeland, now an acquisitions editor at Oregon State University Press. "But their actions over the past year have also revealed them to be passionate advocates for their community, for the various stakeholders and audiences of university presses, and for the entire mission of university press publishing."
Edwards is an associate professor of history and directs the Kansas Studies Institute at Johnson County Community College in Overland Park, Kansas, and is the author of Osage Women and Empire: Gender and Power (University Press of Kansas, 2018) as well as articles that have appeared in Kansas History and the Journal of American History.
King (Diné) is an associate professor of history at Northeastern State University in Tahlequah, Oklahoma, and the author of The Earth Memory Compass: Diné Landscapes and Education in the Twentieth Century (University Press of Kansas, 2018) and coauthor of Returning Home: Diné Creative Works from the Intermountain Indian School (University of Arizona Press, 2021).
Read more about the Stand UP Award and past winners Shawn Wong and Ned Stuckey-French here.
November 19, 2022, Lawrence, Kansas—Edwards and King were honored in person during a reception at the University Press of Kansas. More about the event here >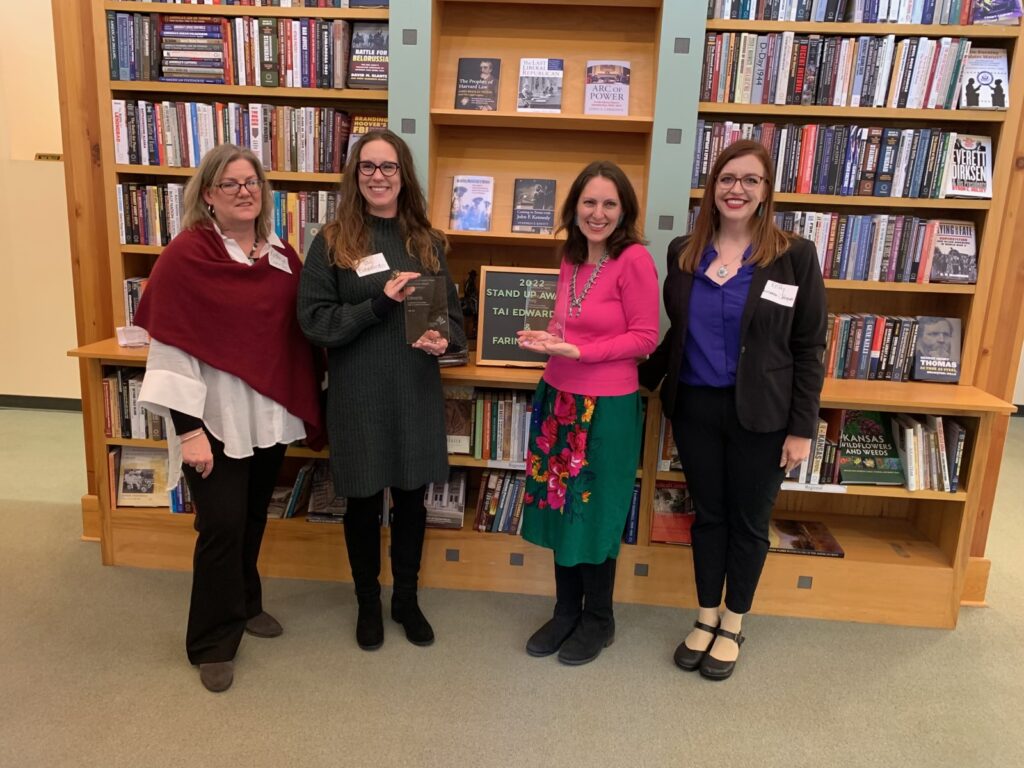 About the Association of University Presses
AUPresses is an organization of nearly 160 international nonprofit scholarly publishers. Since 1937, the Association of University Presses advances the essential role of a global community of publishers whose mission is to ensure academic excellence and cultivate knowledge. The Association holds intellectual freedom, integrity, stewardship, and equity and inclusion as core values. AUPresses members are active across many scholarly disciplines, including the humanities, arts, and sciences, publish significant regional and literary work, and are innovators in the world of digital publishing.