Annual Show Celebrates Excellence in University Press Design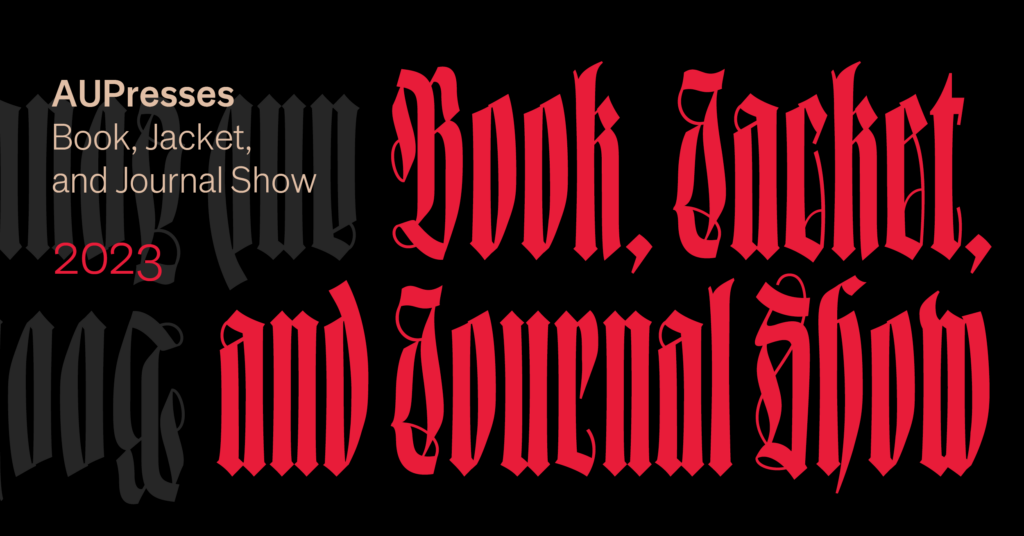 New York, NY, and Washington, DC—The Association of University Presses (AUPresses) proudly announces the juried selections for its 2023 Book, Jacket, and Journal Show. These outstanding examples of university press publications are now on virtual display at https://design.up.hcommons.org/.
The annual show, now in its 58th year, honors the university publishing community's design and production professionals; recognizes achievement in design, production, and manufacture of print publications; serves as a spark to conversations and source of ideas about intelligent, creative, and resourceful publishing.
Open to AUPresses member publishers worldwide, this year's competition attracted 488 submissions, published during 2022 in these categories:
Scholarly typographic books
Scholarly illustrated books
Trade typographic books
Trade illustrated books
Poetry and literature books
Reference books
Journals
Jackets and covers (of books and journals)
"There is so much knowledge and creativity in this community," said Wendy McMillen, Production and Design Manager at the University of Notre Dame Press, who, along with Mindy Basinger Hill, Art Director at the University of Washington Press, co-chaired this year's Book, Jacket, and Journal Show Committee. "The AUPresses Book, Jacket, and Journal Show gets better every year!"
"The printed book should be both a functional and a beautiful object," added Hill, "and every year this community finds new and innovative ways to bring that vision to our books."
The 2023 Show jurors, who gathered in January at the AUPresses office in New York to evaluate entries, are:
Jason Alejandro is a Puerto Rican designer and educator. Currently an assistant professor at The College of New Jersey, his experience in environmental graphic design and art direction includes 8 years as a book designer at Princeton University Press.
Anna Jordan designs book covers in Rochester, New York, where she is also an assistant professor in the MFA Visual Communication Design program at Rochester Institute of Technology. In 2015, PRINT Magazine named her one of the best New Visual Artists: 15 Under 30.
Amanda Weiss is a freelance designer based in Nashville, Tennessee. Previously a book designer at Princeton University Press, she now works for a variety of clients including university presses, indie publishers, and trade publishers.
Jayme Yen is a Seattle-based graphic designer and educator. Currently Artist-in-Residence at the University of Washington School of Art + Art History + Design, she is also a co-founder and co-organizer of the Seattle Art Book Fair.
Alejandro and Yen considered the book and journal entries, identifying 32 outstanding works from a field of 174 submissions. "Our selections ended up evoking an array of responses," said Yen. "As book designers, some books made us professionally jealous—we wish we had designed those! As designers-who-collect-books, we took notes about the books we wanted to purchase later. As readers, there were books that we lingered over for longer than absolutely necessary, the text and typography luring us in and making us forget all else."
Jordan and Weiss evaluated 314 jacket and cover entries, selecting the top 51 for the show. "During the judging process we kept in mind that COVID-19 has substantially altered how we work—budgets, production schedules, and printing possibilities have dramatically shifted since March 2020," said Weiss. "Not surprisingly, the majority of the entries were digitally printed, and rarely would we see more than a standard jacket lamination, making the cover design even more crucial."
"The jackets and covers that we selected exhibit a wide variety of aesthetic styles and conceptual approaches—an exciting capsule of intellectual and visual culture from 2022," Jordan noted. "Together, they demonstrate the tremendous potential and power of design to form and inform the meaning of a text."
"Book, Jacket, and Journal Show catalogs serve as yearbooks, reference books, how-to manuals, and brag books," said Alejandro. "But, most of all, they document the brilliance, creativity, risk-taking, craft, and discipline of so many hard-working designers, art directors, typographers, illustrators, printers, and production staff."
The jurors will offer observations and discuss their process with attendees during the AUPresses Virtual Annual Meeting in June. An exhibition of the selected entries is expected to travel to member presses from September 2023 through May 2024.
About the Association of University Presses
AUPresses is an organization of nearly 160 international nonprofit scholarly publishers. Since 1937, the Association of University Presses advances the essential role of a global community of publishers whose mission is to ensure academic excellence and cultivate knowledge. The Association holds intellectual freedom, integrity, stewardship, and equity and inclusion as core values. AUPresses members are active across many scholarly disciplines, including the humanities, arts, and sciences, publish significant regional and literary work, and are innovators in the world of digital publishing.